PoliDisin™ – Product for the high disinfection of surfaces mainly made of povidone iodine and potassium peroxymonosulphate
Product for the high disinfection of surfaces mainly made of povidone iodine and potassium peroxymonosulphate.
Available in packs of 50 single-dose vials or in 1 kg jars of bulk product.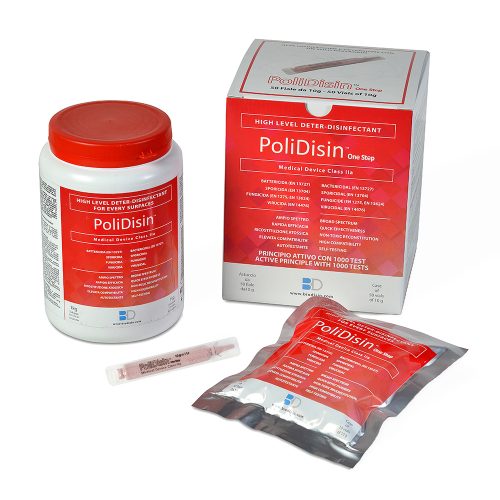 HANDY ECONOMICAL EFFECTIVE
HANDY
A new innovative powder formula with a high disinfectant power to be reconstituted in mains water, easy to store (1kg developing 100 litres) and use, as its action mechanism is accelerated by povidone-iodine and potassium peroxymonosulfate, making it effective in a few minutes.
Its active ingredient is activated by organic substances, therefore the 4-step process required by the applicable guidelines (1 cleansing/2 rinsing/3 disinfection/4 rinsing) is reduced to a single step, with a considerable saving of time.
In addition to its instructions for use, the package also contains a convenient 10g single-dose ampoule, so that the product can be easily reconstituted in its specific 1L PET container by filling it with mains water.

The reconstituted product (1%=10g/L) remains unchanged and can be used on any surface, as its compatibility with all materials is certified. PoliDisin™ allows you to use a single product, and therefore to simplify the activities to be carried out by the staff and reduce the possibility of human error, which is increased when using multiple products.
ECONOMICAL
The scientific material of the active ingredient used for this high-level non-toxic broad spectrum disinfectant is compatible like no other similar product, despite its low intrinsic cost; moreover, the 4-step application procedure reduced to a single step makes PoliDisin™ more affordable than any other product on the international market.
EFFECTIVE
PoliDisin™ is a Class 2A Medical Device (Ministry of Health Reg. Code 182212/R).
The effectiveness of its active ingredient is supported by over 200 reports and 1000 international tests.
Active against spores, viruses, bacteria and fungi, as well as against antibiotic-resistant pathogens.
Effective against SARS-CoV-2 in just 60 seconds (EPA certified).
Active ingredient recommended by the World Health Organization (WHO) to the different governments around the world, as a strategy for emergency infectious diseases, such Ebola, Avian Influenza, Swine Fever and SARS.
PoliDisin™ is an extremely reliable product, as its reddish purple colour changes only when the product is no longer effective, which does not happen with other disinfectants.
For the first time ever, BioDisin provides evidence of the effective results guaranteed by PoliDisin™.